What's your story?
Your company's message helps customers understand your company's value and what you value as an organization. Weaving your company's mission, stories, and solutions into websites and social media content makes connections with customers, builds trust and sells your product, service or cause.
The following project snapshots from two clients, a customer service consultant and a sustainability architecture firm, illustrate my customized marketing, design and storytelling services.
Thank You Very Much, Inc
I am the marketing director for Holly Stiel's Thank You Very Much brand, crafting the vision and creative while contributing to the growth of the business and online community. Holly is a trailblazing pioneer in the hospitality industry, customer service philosopher, keynote speaker, author and trainer.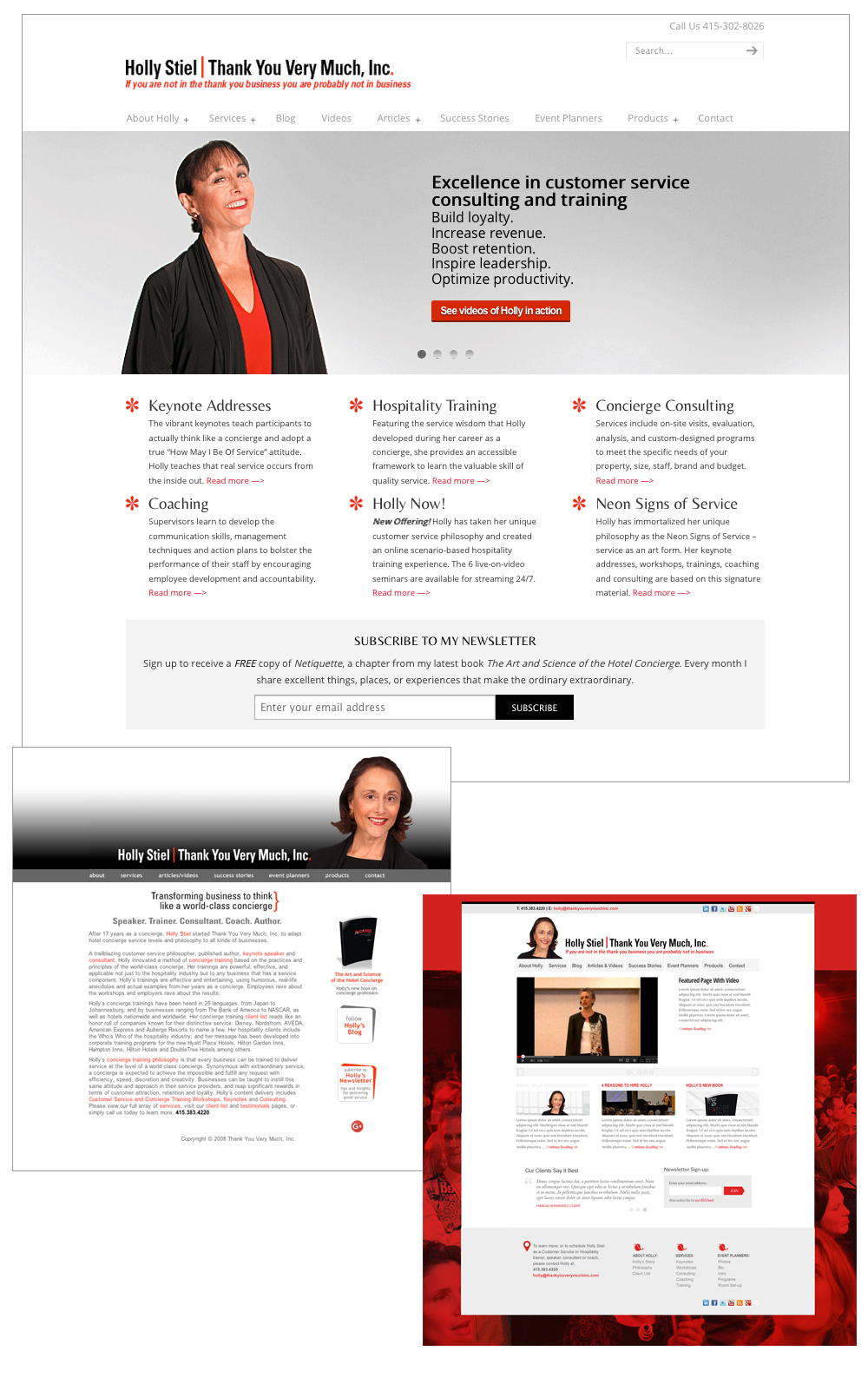 The focus of the work involved building and maintaining the Thank You Very Much brand on all social media channels, websites and blogs by providing valuable educational and inspirational content and regular updates of Holly's global keynotes and trainings. The services I have provided include design, writing, editing, strategic thinking, project management and research.
As art director, I utilized multidisciplinary design and storytelling processes to communicate the nuanced and original TYVM narratives. I designed and developed three different versions of the TYVM website, conceiving look and feel, creating graphics, curating art, writing and editing blogs. Work also included all phases of production: information architecture, interface design, functionality design, action planning and site maintenance. I also created an additional website for an imaginative hospitality training program based on a business graphic novel and a comic book hero. It was focused on enlightened leadership and meaningful metrics.
Additional projects included two different versions of the customer-focused TYVM newsletters that provide inspiration as well as recommendations of excellent things, places, or experiences that make the ordinary extraordinary; PowerPoint presentations for trainings and keynotes; edited videos of her keynotes and trainings.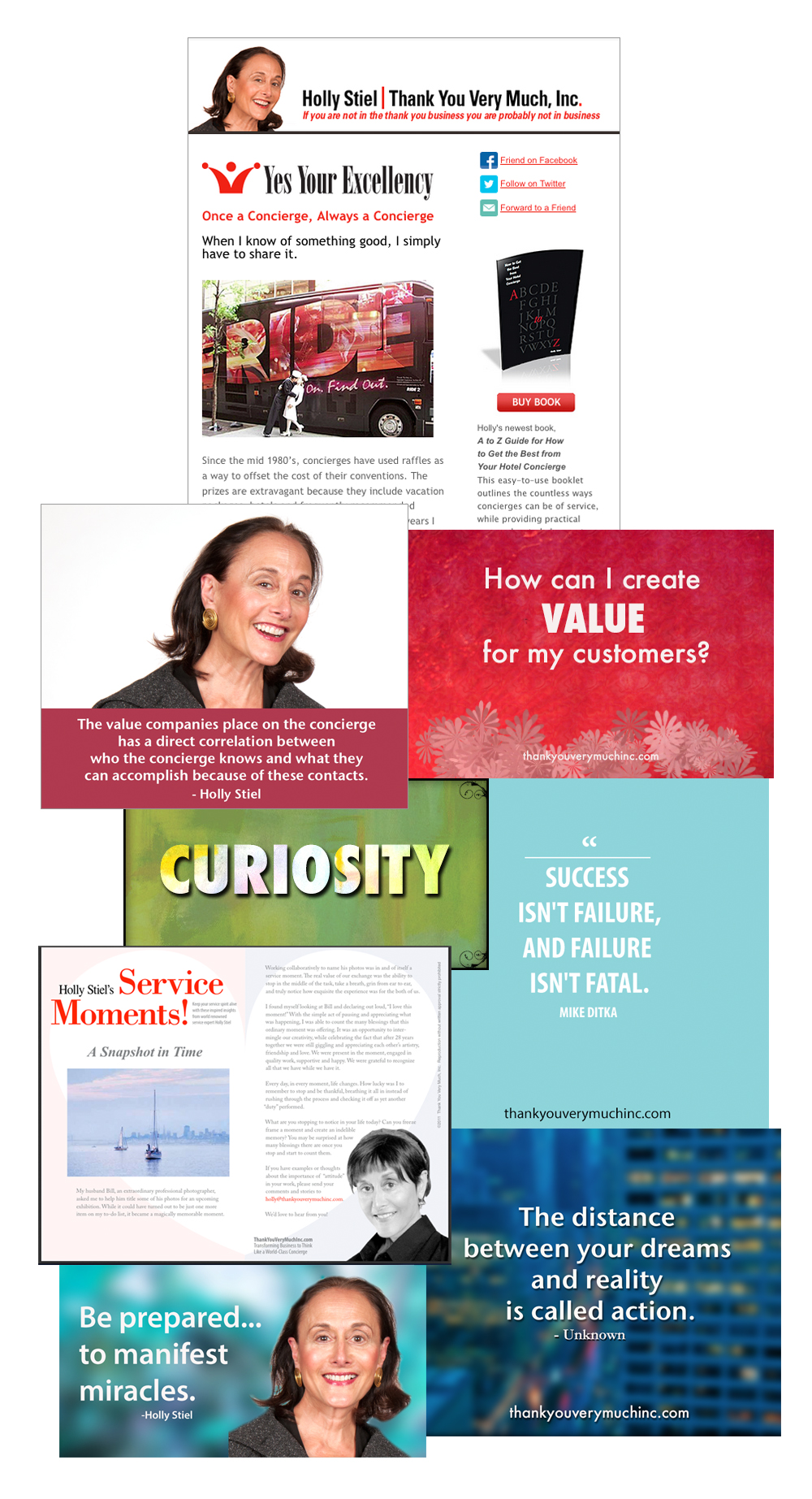 As social media manager, developed engaging content marketing that inspired, entertained and empowered. I prepared designs, artwork, edited and wrote copy for social media and blogs.
In addition, I provided strategic thinking and business advice that allowed Holy to see and grow her business in fresh new ways. My first project for Holly was a research project and white paper about the incorporation of concierge thinking in customer service across a wide range of industries.
Urban Fabrick, Inc
I designed and produced a website for Urban Fabrick, a sustainability consulting and communications company. UFK is committed to making green building and resilient cities the new 'normal' and consults on climate positive development at every scale of design and practice. My work included all phases of production of website including information architecture, interface design, functionality design, action planning and site maintenance.
Since 2013, I've collaborated on brand messaging via blogs to reflect UFK's projects, strategies and values. Duties included graphic design, writing, editing, research and synthesizing content from varied sources.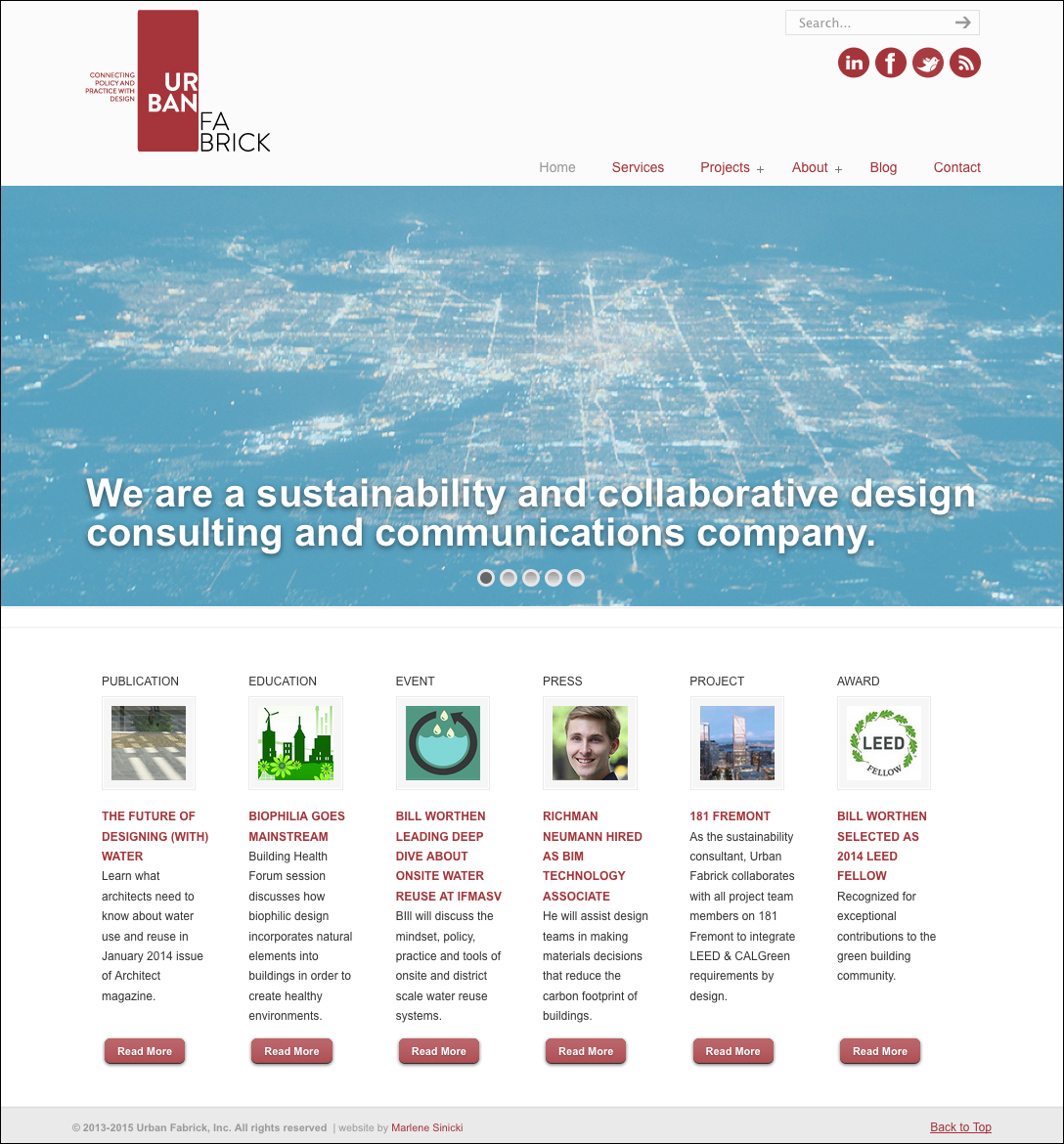 Save
Save
Save