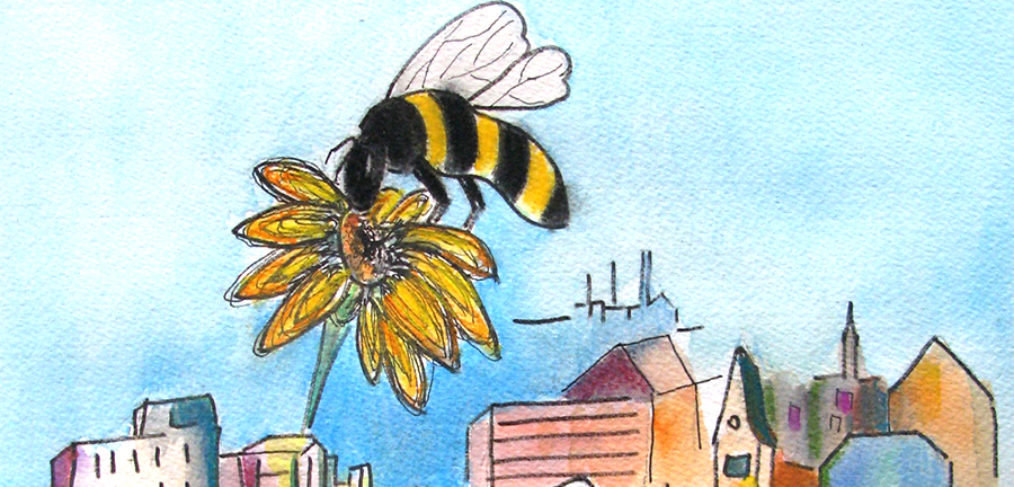 Bee Highway in Oslo
Oslo has planted an edible highway of gardens and beehives to attract bees to the bustling metropolis. The pollinator passage includes balconies, rooftops and other public places planted with bee-friendly flowers. The gardens provide pollen and nectar. This citywide initiative gets people excited about the environment and motivated to protect the endangered bee population. Bees, without a doubt, can flourish in urban environments as long as they have food and a nesting site.
Since it's been estimated that bees pollinate one third of the food that is eaten worldwide, their decline is cause for great concern. Bee colony collapse is attributed to pesticides, parasites, bacteria, climate change, habitat loss, microwave radiation and an invasion of Africanized honeybees. For example, many bees are simply going hungry because of monoculture farming practices.
Earth is in a state of extreme transition. Creating a sustainable food supply requires innovative ways of living and a reimagining of our cities. The dramatic increase of people living in urban settings is creating a dire need to grow nature lovers and rewild our cities. In fact, Diane Ackerman writes, "One of the paradoxes of our age is that we're urban primates who are still adapted to wilderness, which we long for, and need, at the same time that we're destroying, building over, and farming all that's wild." (The Human Age: The World Shaped By Us, p. 73)
Small changes lead to big changes
Creating connections to nature increases respect for the environment. It goes without saying that all life on Earth can thrive for generations to come if we address climate challenges immediately, honor the wisdom of nature and adopt environmental stewardship practices.
Our cities need to become regenerative ecosystems. This goal requires 'one-planet living' where all living beings live within natural limits.
Bees and humans can benefit from environmentally-enhanced cities. Honeybee-friendly habitats can entice back the pollinators. In addition, urban farms, green rooftops, skyparks, terraced gardens, forests, waterways and conservation areas could provide food as well as healthy and beautiful places to live and work. Rewilding our cities can reverse the effects of climate change.
To conclude, the sumptuous welcome that Oslo is extending to bees is a reminder that everyone can play a part in creating a world in harmony with Earths' living systems.
———

Marlene Sinicki is a multidisciplinary designer that provides visual marketing and communications for companies and causes. She also creates eco art about climate change and sustainability. Her art, illustrations and storytelling celebrates the wisdom of nature and inspires hope and solutions for a positive future. By representing complex ecological issues in fresh, optimistic and vital new ways, she encourages us to care for the environment. Marlene promotes sustainable living within natural limits and reminds us that everyone can play a part in creating a world in harmony with Earths' living systems.
Save
Save
Save
Save
Save
Save
Save
Save
Save
Save
Save
Save
Save
Save
Save
Save
Save
Save
Save
Save
Save
Save
Save
Save
Save
Save
Save
Save
Save
Save
Save
Save
Save
Save
Save
Save
Save
Save
Save
Save
Save
Save
Save
Save
Save
Save
Save
Save
Save
Save